The tool is a useful free desktop tool for taking quick notes: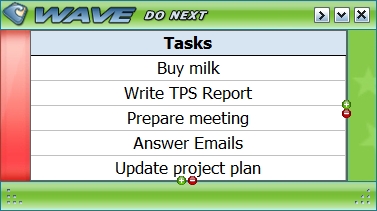 Screenshot of DoNext
DoNext is Freeware. Completely free! The size and numbers of columns and rows can be adjusted(with the small symbols

).
Download DoNext 1.2 (January 2015)

Click here to download it now (for Windows® 32-Bit):

Click here to download it now (for Windows® 64-Bit):

Installation

DoNext does not need a classical installation with a setup. Just:
download the ZIP file
un-zip the ZIP file - it contains one single file
create shortcuts to the file on the desktop
with a double click you can start DoNext
We recommend you to make a desktop shortcut to the tool. It also makes sense to create a startup link in the Windows® Startup folder.
Use as plugin in Notesbrowser

If you are using our organizer Notesbrowser you should move the tool to the Notesbrowser Plugins folder and use it as a plugin (in Notesbrowser->Configuration->Plugins). Then you can launch DoNext with a right click in Notesbrowser and also it uses the Notesbrowser skins.
This tool is only one single file big. It creates only additional file 'ToDoList.xml' in the same folder to saves all settings and data. No entries are made into the registry.
Read more: Features&Screenshots