June 2023 - we have decided to discontinue this product. We thank all users for using it. No further development is planned. The download of the last version is still possible here for a while.

DoNext is a useful Freeware desktop tool for taking quick notes. You can minimize it if you click on the red left border or by pressing key ESC: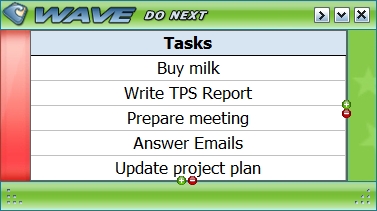 Screenshot of DoNext
The size and numbers of columns and rows can be adjusted (with the small symbols

).
Download DoNext 1.3.0.3 (December 2022)

Please aknowledge that you accept with your download our End-user License Agreement.
Click here to download it now for Windows® 32-Bit:

Click here to download it now for Windows® 64-Bit:

Installation

Does not need a setup:
download the ZIP file
un-zip
start DoNext
optional: create a shortcut on the desktop or in the

quick launch bar
DoNext some Features

small - and only one exe file
no installation needed
no account needed
flexible (look at the screenshots)
saves a tasklist in an customizable table
can be shrinked with one click or key ESC
saves automatically
skin-able
Screenshots

These sceenshots show the wide possible use scenarios of DoNext: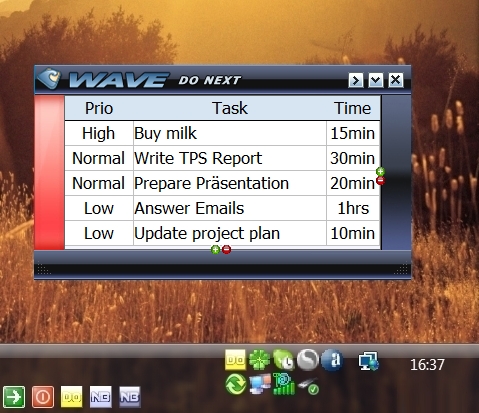 DoNext on the Windows Desktop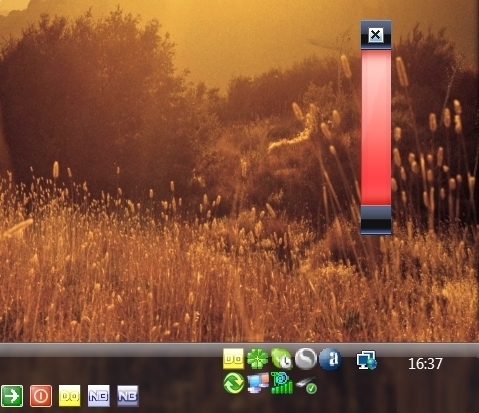 Minimized (Expand with a click!)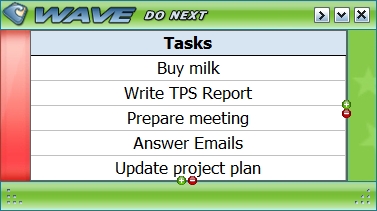 Simple lists with only one column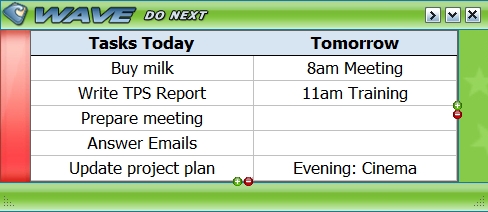 Two columns, one for today and one for tomorrow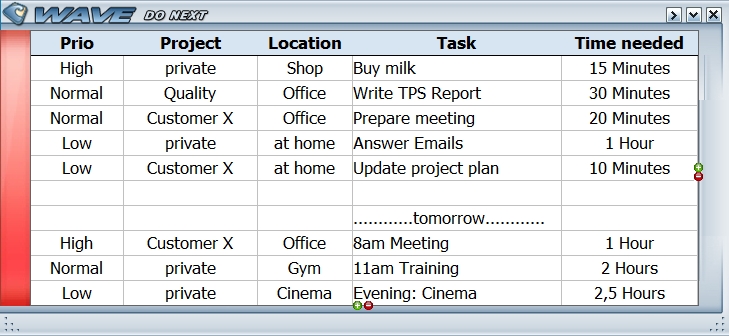 You can create complex lists with many columns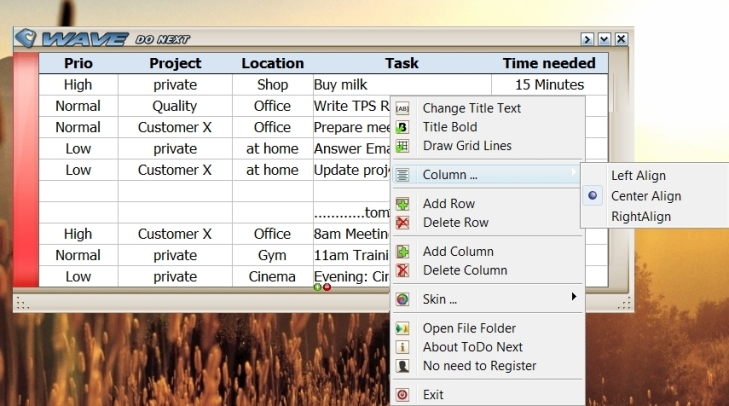 Right click menu with all options
How to use and change Skins

For Skins (optional) the Notesbrowser Skins are used.
Skins can be used and changed easily if you have installed Notesbrowser. The Skins can then be used if DoNext is located in the Notesbrowser Plugins folder.
Or you create a skins folder in the folder where DoNext is located, for example: C:/Program Files/DoNext/Skins/Royal
If this "Royal" folder contains the Notesbrowser Skin Royal, it will work and you can select the skin from the menu within DoNext.
It's easiest if you use DoNext.exe in the Notesbrowser plugin path .../Notesbrowser/Plugins/